A Guide To Spotting A Fake Rolex
13 Jul 2016, 9:45 AM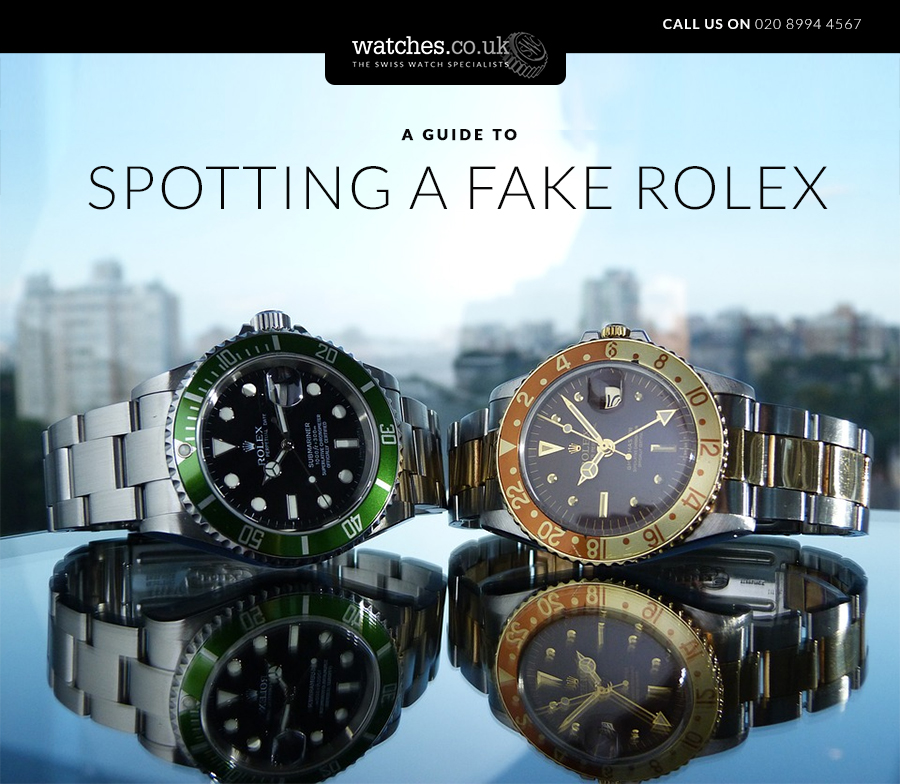 When it comes to luxury timepieces, few brands are as internationally renowned as Rolex. A Rolex is more than simply a watch; it is an investment that matures with age – a family heirloom that can be passed down through generations.
"Rolex produce around 700,000 Watches a year, counterfeiters product ten times that number"
Rolex are the
4th most Counterfeited
luxury brand in the world
Buying a fake Rolex is a bad idea. Not only are these watches illegal, they are not built to last. Cheaper fakes have been known to last as little as two weeks, while even the better counterfeit models can only be expected to have a three-year life span.
If you are in the market for a Rolex.
To help you avoid being ripped off, here are some tips for spotting a fake:
Hover over the images to reveal which is the fake Rolex!
The Dial
The Dial: The date is centred perfectly with the Cyclops window
The Face: Have Sapphire Crystal fitted which can only be scratched by a diamond
The bracelet
Bracelet: Most bracelets that join to the head are numbered
detail
Detail: Models Post – 2001 have the Rolex crown etched on the crystal face below the Six which can be seen with a loupe, Some fakes have this, but the detailing isn't to the same quality, as the etching is to noticeable then the real one.
case back
Case back: Rolex never manufactured a watch with a crystal caseback.
inner engraved bezel
All Rolex watches from circa 2008 onwards have an engraved inner bezel with the serial number of the watch. This can be checked against the Rolex papers to see that they match.

The Guest Book
What our customers are saying
Read All
I bought an Ebel Brasilia men's wristwatch in 18ct yellow gold on the platform Chrono24 at Watches.co.uk on 05.06.2018. The watch was delivered a few days later with a parcel service. I am very happy with this beautiful piece, it is exactly as described by the seller. I would always buy a watch from the reliable dealer again!
Read All
SUBSCRIBE TO OUR NEWSLETTER
Be the first to know
© The Swiss Watch Co. (UK) Ltd 1996-, All Rights Reserved | Please note that we are not affiliated in any way with any of the major Swiss Watch companies or any online retailers based outside of the UK. Company VAT Number 745 08333 33, Company registration number 3919050. The Swiss Watch Co. (UK) Ltd, 474a Chiswick High Road, Chiswick, London, W4 5TT